Christina M. Jimenez, Ph.D.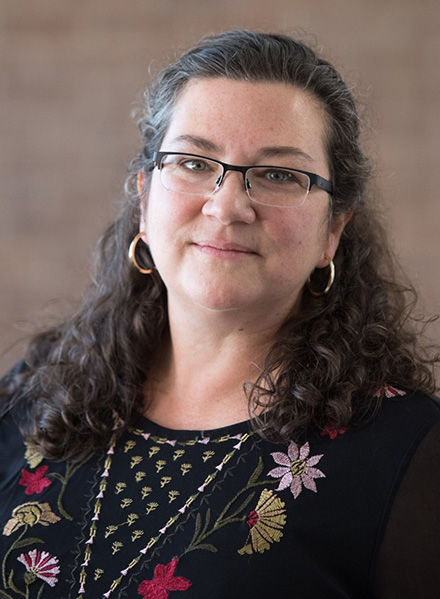 Christina M. Jimenez, Ph.D.
Biographical Information
Christina M. Jiménez, Ph.D. is Chair and Professor in the Department of History at University of Colorado Colorado Springs (UCCS). She has a Ph.D. and M.A. in Latin American History from the University of California, San Diego. She teaches a range of class from lower-division survey course and first-year student seminars to graduate research seminars in Mexican history, Latinx/Hispanic histories, Latin American History, comparative urban history, immigrant histories, and citizenship studies. Her historical research specializes in Mexican History, Latin American History and the history of cities and citizenship. Her book Making an Urban Public: How the City Revolutionized Citizenship in Morelia, Mexico, 1880-1930  (University of Pittsburgh Press, 2019), named as an "Outstanding Academic Title of 2019" by Choice, a publication of the American Libraries Association, explores citizenship, urban politics, and popular culture in the Mexican city. She has published in several anthologies and academic journals. Her current book project A City of People Working in the Streets: Itinerant Urban Workers [Ambulantes] and Municipal Politics in Guadalajara, Mexico, 1870-1940 (book manuscript in progress) is rooted in months of archival-based research from 2015 to 2019, supported by UCCS research grants from GLINT and CRCW. Parts of that recent work have been presented at the Urban History Association, Rocky Mountain Council of Latin American History, and the Southeastern Council of Latin American Studies.
Jimenez is also a workshop facilitator, leading challenging conversations around diversity, inclusion, systems of privilege, systems of oppression/ marginalization, and strategies for social change. She is co-editor (with Ferber, Herrera, and Samuels) of The Matrix Reader: Examining the Dynamics of Oppression and Privilege (McGraw-Hill, 2008). For over a decade, she was a lead learner of the Knapsack Institute held at UCCS each June, an intensive workshop for activists and educators working on social justice issues. She co-developed two sequential The Big Idea Workshops (1.0 and 2.0, beginning and advanced), core training in a campus-wide inclusion education program from faculty, staff, teacher education students, and student leaders. The workshop uses intersectional approaches to systems of power, privilege, and oppression to generate deeper understandings about the ways inclusion or exclusion is created and experienced systemically. She has lead campus-wide initiatives centered on general education revision, creating inclusiveness on campus, and experiential learning. From 2007 to 2010, she served as a faculty fellow under the Associate Vice Chancellor for Diversity and Inclusion, co-lead a campus-wide Diversity Strategic planning process for the campus. In 2012-2014, she successfully co-chaired a university-wide revision of the general education requirements for all students across five colleges, resulting in a full faculty vote (84% approving the curricular changes).
Jiménez has received several recognitions and honors, including, the UCCS Chancellor's Award (2016), UCCS Award for Faculty Contributions to Diversity and Inclusiveness (2013), the "Outstanding Teaching Award" from the College of Letters, Arts, and Sciences (2008). She was nominated for the University of Colorado system-wide "Excellence in Leadership Award," and has been an invited participant in the CU Excellence in Leadership Program and Academic Management Institute for Higher Education. 

Email: cjimenez@uccs.edu
Areas of Interest
Latin American History
Mexican History
History of Cities, Citizenship, and Public Space
Publications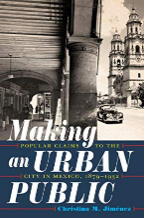 Check out the link to my recent book on amazon.com: Making An Urban Public: Popular Claims to the City in Mexico, 1879-1932 (University of Pittsburgh Press, 2019). Recognized as an "Outstanding Academic Title of 2019" by Choice, publishing branch of the American Libraries Association. http://www.ala.org/acrl/choice/outstanding
Here's a interview podcast about the book:
https://newbooksnetwork.com/christina-jimenez-making-an-urban-public-popular-claims-to-the-city-in-mexico-1879-1932-u-pittsburgh-press-2019/ 
---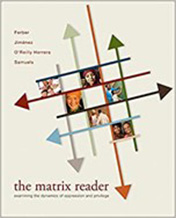 The Matrix Reader: Examining Dynamics of Oppression and Privilege, eds. Abby Ferber, Christina M. Jimenez, Andrea O'Reilly Herrera, and Dena Samuel (McGraw-Hill Companies, 2008).
Podcasts and Recorded Lectures:
Listen here to Dr. Jimenez's keynote at University of Antwerp, Belgium, Debating Development Series: "Colonial Spatialities and Contestation in the City" in November 2020.
Health disparities continue during the COVID-19 pandemic. In this podcast for Movement is Life, Episode 41 we discuss privilege with Dr. Christina Jimenez, Dr. Mary O'Connor, and Dr. Eddie Moore, Jr. In this podcast, we hear the p-word (privilege) used a lot in the context of health disparities, but what does it really mean and how does it perpetuate health inequities? We will continue to peel back layers of disparities to reveal the factors behind health inequities being amplified by this pandemic
Do you understand how privilege operates between the US and Latin America? Listen here to my conversation a part of Coffee with the Founder Series with Dr. Eddie Moore, Jr.
Listen to Episode 44 in Movement is Life's Podcast Series. Exploring the "invisible knapsack" concept developed by Peggy McIntosh to understand privilege and power in the context of health and diversity. Featuring Christina Jimenez, Ph.D with Dr. Bonnie Simpson Mason, M.D.. Posted on May 27, 2020. Dr. Jimenez discusses how most of the inequities we see in healthcare and wider society are structural and systemic, which means they are built in, and automatically benefit certain groups. Fostering sensitivity to the power balance between "normative identities" and "others" is essential to inclusivity and minority empowerment.