Requirements for the BA in History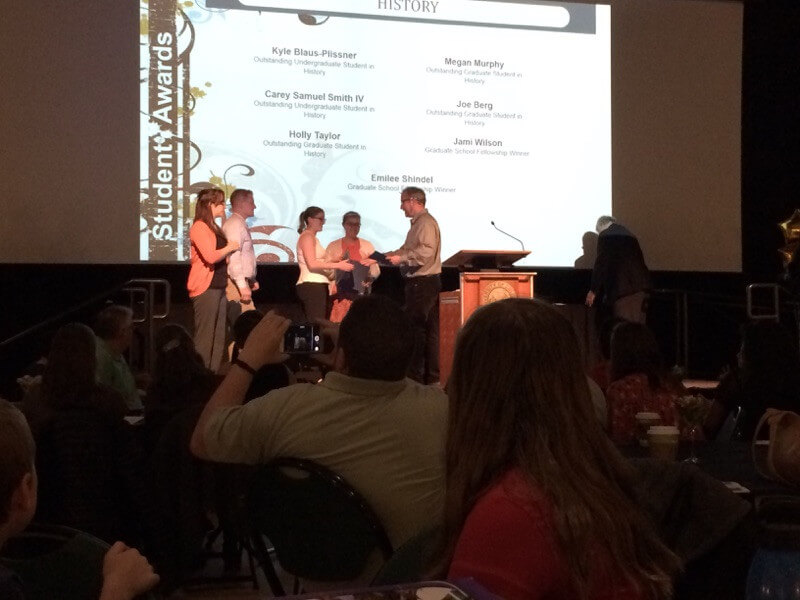 Overview
The UCCS History Department offers a Bachelor of Arts (BA) in History, as well as degrees in History and Education (Secondary, Primary, or Special Education) for students entering teaching careers. We focus on six primary learning objectives (PDF).  History teaches you to articulate arguments using critical analysis and complex reasoning. Another learning objective is to develop the ability to use, integrate, and discuss primary source evidence effectively in writing based on an understanding of the methods of historical research and analysis. You will also learn how to use, integrate, and discuss secondary sources and historiography effectively in writing based on an understanding of the appropriate methods of historical research and analysis.

The History major requires a minimum of 36 credit hours of coursework and a minimum of 21 credit hours of upper-division (3000+) HIST course work. All HIST courses must have a grade of "C" or better.
History B.A. Requirements:
HISTORY Survey Courses: (12 hours total)All history students must take (or transfer in) 12 total hours of lower-division credits. **6 of those hours must come from the American and European History survey sequences: History 1010, 1020, 1030, and 1040 (the four European History sequences), and/or History 1510, 1520, 1530, and 1540 (the four American History sequences). **Then, the other 6 of those hours must come from any of the survey courses in Asian (1110, 1120, 1130, 1140), Latin American (1400 and 1410) and/or Middle Eastern (1600, 1610) History.In all the survey courses, professors emphasize rigorous readings, primary source analysis, and essays involving critical thinking within the discipline of History. Note: most of the lower-division courses in History also fulfill your General Education Explore requirements, and some of the lower-division courses fulfill other General Education requirements in Inclusiveness and Writing-Intensive courses as well.
 
UPPER-DIVISION COURSES IN HISTORY (HIST 3000+ and above)
*21 hours for History BA
*15 hours for History/Education majors In both cases, 3 of those hours must be your Senior Thesis (History 4990) Upper-division courses in history are offered in every conceivable time period and field, from Ancient Greece to the Modern Middle East. Students are expected to complete 21 (for the History BA) and 15 (for History/Education majors) hours of upper-division courses in History. SIX (6) of those hours in upper-division courses must come from the list of courses designated as Global History courses. Please see the History Advising sheet for a complete list of the courses that fulfill your Global History requirement at the upper-division level. All of the courses that fulfill the Global History requirement in the major also fulfill the General Education "Inclusiveness" requirement. Upper-division courses in History are typically fairly small (generally 10 to 25 students), reading and writing-intensive (usually with 4 to 7 books required per course, and somewhere between 15 to 30 pages of writing total), and conducted in a seminar-style form in which students are expected to come prepared to articulate and defend their own ideas about a subject. Other upper-division courses feature role-playing within the nationally-known "Reacting to the Past" curriculum; real-world Internship experience working with community and local historical organizations; and hands-on experience re-creating historical tools and artifacts (such as a trebuchet, a medieval weapon).
 
HIST 4990, Senior Thesis: The History Department's "capstone" experience is a Senior Thesis, required of all History majors, and done under the close supervision in a class (History 4990) taught by one of our regular faculty members or Instructors. In the Senior Thesis class, you will prepare a full-length (usually 25-30 pages) essay on a selected topic in History, relying heavily on original or primary sources. Please see the Guide to History 4990 Senior Thesis  or further details and a schedule of topics and instructors.